PIPAC – PRESSURIZED INTRAPERITONEAL AEROSOL CHEMOTHERAPY
PITAC – PRESSURIZED INTRATHORACIC AEROSOL CHEMOTHERAPY
MCR-4 TOPOL®

The disposable, minimally invasive second-generation surgical atomizer has been specially developed for the most challenging clinical areas of pressurized intraperitoneal and intrathoracic chemotherapy.
PREMIERE FEATURES OF second-generation MICRO-ATOMIZERS
Compared to their predecessors, second-generation surgical micro-atomizers are characterized by: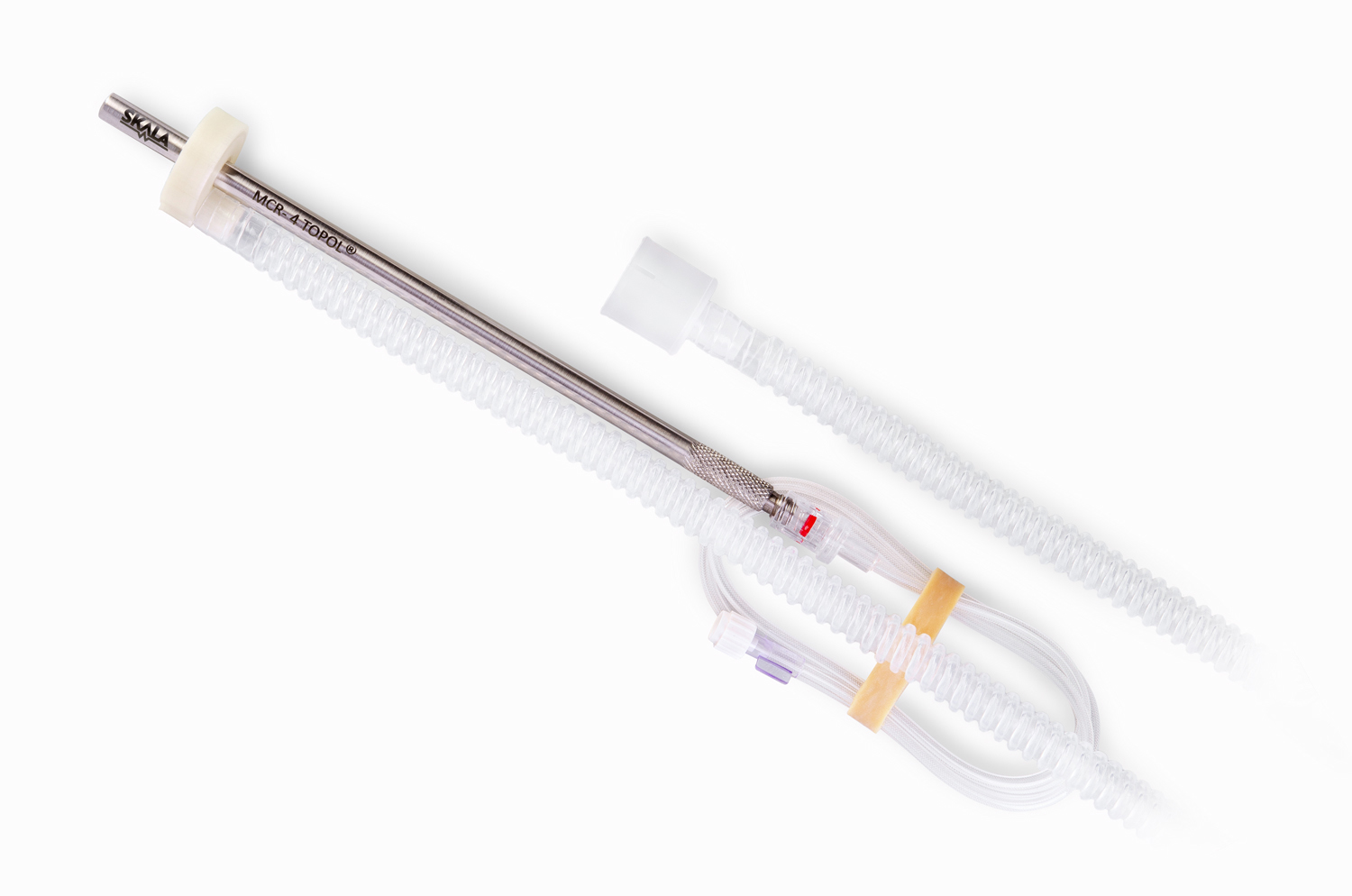 High-safety construction and design: 
with diameter reduced to 8 mm,
smooth shape without interfering transition elements,
ergonomic and safe grip,
presence of aerosol residue drain hose.
High reliability and durability:
integrated particulate filter,

composite and homogeneous mechanism,
Modified spray parameters:
wider range of pressure levels,

increased spray angle,

increased particle size and weight,

higher droplet velocity,

enhanced droplet impact,

increased spray stability,

faster dosing.
INCREASED SAFETY of CONSTRUCTION AND DESIGN
The unique technology for the production of a corrosion-resistant steel composite with a diameter of 8 mm with a smooth body surface and without interfering structural elements guarantees the safest and most hygienic compatibility in the space-challenging environment of minimally invasive surgery. The smooth body of the MCR-4 TOPOL® micro-atomizer enables safe and comfortable passage through the trocar. The advantage of the smooth surface is that it allows the insertion of a disposable aerosol residue drain hose, which is included in each sterile package. The drain tube is compatible with all surgical aspirators of carcinogenic aerosols featuring a 22 mm diameter filter inlet. The MCR-4 TOPOL® micro-atomizer is equipped with an element for the most comfortable, ergonomic and secure grip.
A61M5/307 Minimally invasive surgical nozzle, especially for invasive surgery;
REGISTRATION NUMBER: 34539
UNIQUE SAFETY DUE TO THE PRESENCE OF PRESSURE FORCES
During balast tests according  EN ISO 1402, it was proven, that the mechanical damage of MCR-4 TOPOL® microatomizer only occurs at an unrivaled value of 123.6 bar. For a similar competitive product, with the same measurement, already at 54.8 bar.
INCREASED RELIABILITY AND DURABILITY
Presence of an integrated safety particle filter with a particle trapping capacity of 0.1 mm or more. Compared to the first generation, this measure reduces the risks of device failure associated with obstruction of the nozzle orifice by an accidental particle. The internal system of the micro-atomizer is exclusively made of high-quality, corrosion-resistant elements. MCR-4 TOPOL® is characterized by its absolute integrity. No moving parts, such as a pin, hub, spring, rubber seals or various systems of glued threads, are required for its activity. "The absence of these elements is a basic prerequisite for the successful design of precisely defined properties of the MCR-4 TOPOL® micro-atomizer spray."
MODIFIED SPRAY EFFICIENCY
The MCR-4 TOPOL® micro-atomizer spray design is based on the extended requirements of mechanical engineering for determining the parameters of atomizing nozzles. Specifically, in the field of fluid mechanics.
OPERATING PRESSURE RANGE
Second-generation micro-atomizers enable efficient operation in the pressure range of 100-330 psi.
Application using up to four micro-atomizers from four different positions using two dose dispensers is becoming a new challenge in the field of current treatment techniques…
SPRAY ANGLE
The MCR-4 TOPOL® micro-atomizer enables the application of a cytostatic agent under an angle of up to 80 degrees with a distinctive spray cone. A larger pattern area is required in terms of a higher effect of surface and deep diffusion.
SPRAY STABILITY
MCR-4 TOPOL® has been specially designed with respect to the required enhancement of mass flow into the areas of fluid walls. Unlike the previous generation, where the substantial mass of the spray was directed to the area of its axis. Together with the modified particle size and velocity, the MCR-4 TOPOL® micro-atomizer spray is less prone to lateral spray drift in a very complex capnoperitoneum setting.
Independent measurements performed by the Faculty of Mechanical Engineering of the Brno University of Technology.
IMPACT
The aerosol produced by the MCR-4 TOPOL® micro-atomizer provides for an effective penetration of cytostatic agent particles deep into the affected tissue. For the largest droplet with a diameter of 50 μm and a particle velocity of 8 m/s (at a distance of 50 mm from the nozzle), the value We=44 is absolutely unmatched.
AFFORDABILITY
The MCR-4 TOPOL® pricing policy is essential for ensuring product availability. Exactly where it is needed… 
the price can be fixed for 5 years
A DEVICE DEVELOPED AND MANUFACTURED IN THE CZECH REPUBLIC
Department of Construction and Development SKALA-Medica s.r.o., AeroRes Group, Soběslav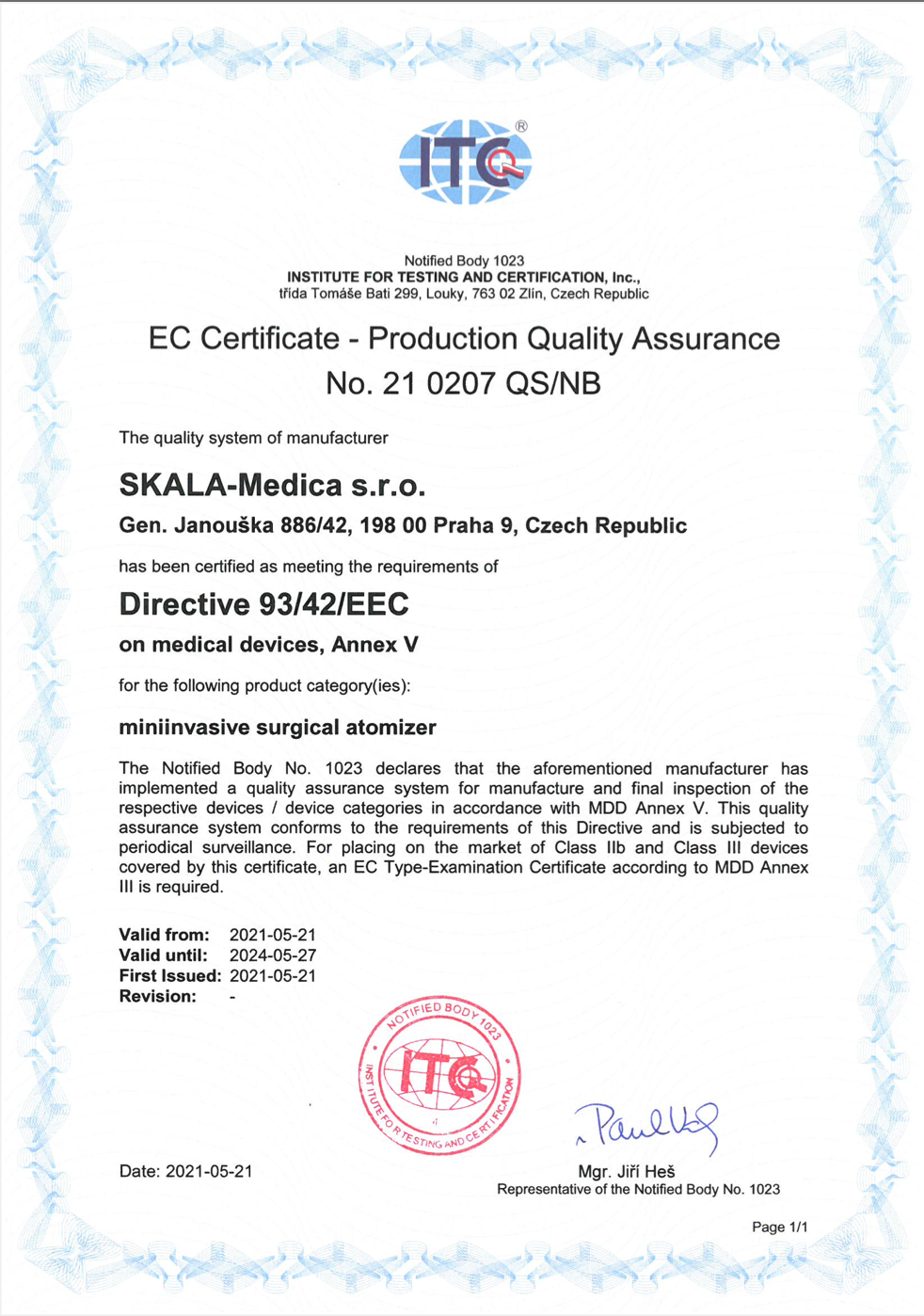 The certificate can be downloaded here
USE IN OTHER INDUSTRIAL APPLICATIONS
For other industrial applications, laboratory and scientific research purposes, the following 28 variants of the microatomizer MCR-4 TOPOL® platform can also be manufactured regarding customer's request.